Research real world examples of how kids around your age or grade level have helped to improve their community. You might choose to stick to local news stories, or expand your search to a national, or even global level! Share an article, program/organization website, or video that you found particularly inspiring or thought provoking. Summarize the content of the your web source briefly, highlight an excerpt or two that you found surprising or interesting and explain why.

In both your post and comments, share your reactions to the community improvement project and try to make connections to your own community and what might be done to improve it.
Powered by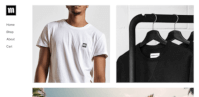 Create your own unique website with customizable templates.